Absorption Type Merger with Next-Generation Composite High-Pressure Vessel Development Company for a Hydrogen Society
Absorption-type Merger with Next-Generation Pressure Vessel Manufacturer CoMReD
New Department for Composite Materials Technology established in Kure City, Hiroshima Prefecture, Japan
[TOKYO, JAPAN, September 1, 2021] SPACE WALKER Inc. issued a press release publicizing the company's absorption-type merger of CoMReD Corporation (Gotsu City, Shimane Prefecture, Representative Director: Mutsuya Yamamoto, hereinafter referred to as CoMReD) as of July 13th, 2021. CoMReD develops and manufactures next-generation composite high pressure vessels(*) and other products that support promotion of a hydrogen society.
▼ Hydrogen Society
Lightweighting is a vital issue in rocket development, particularly in gas and liquid fuels that require lightweight and robust high pressure vessels. Working towards a shared vision of a sustainable environment both on earth and in space for future generations, the absorption-type merger of CoMReD forms a stronger bond to further advance a hydrogen society along with space development. CoMReD has been SPACE WALKER's former development and manufacturing partner in the next -generation Type 4 and Type 5 high pressure composite vessels for both in space and on earth. As of the date of the merger, Mutsuya Yamamoto (profile below), former President of CoMReD, has been appointed as the Technical Advisor to SPACE WALKER. A new composite materials technology department has also been established, with a new base in Kure City, Hiroshima Prefecture. All of CoMReD's existing operations and customer contracts will be transferred to SPACE WALKER.
(*) Definition of CFRP composite vessels Type 4 and Type 5
CFRP composite vessels Type 4 and Type 5 involve lightweighting engineering, one of the most vital technologies in rocket development. Unlike conventional products (Type-1 to Type-3) such as metal vessels or metal-lined vessels, Type-4 and Type-5 vessels use almost no metal, achieving durability and long life as well as lightweighting to the utmost limit.
Type 4 (Type IV)
Material: Fully-wrapped composite vessel with resin liner (seamless)
Features: Light weight, low cost, short production lead time
Type 5 (Type V)
Material: Liner-free fully-wrapped composite vessel
Features: Lightest weight
■Technical Adviser
Mutsuya Yamamoto
has been developing composite high pressure vessels since 2005, and has served as project leader for the NEDO joint development project. As the project leader, he developed lightweight and robust composite high pressure gas vessels as part of the research and development of hydrogen utilization technology. In a JAXA joint development project, he led the technology team for manufacturing ultra high pressure composite vessels for renewable fuel cell systems as the project leader. For the Ministry of Economy, Trade and Industry (METI) Guidelines for the Safety of High Pressure Gas in Hydrogen Fuel Cell Drones, he has served as an observer. He is currently involved in the research and development of the Type 5 linerless composite container.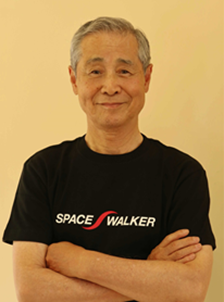 ■Message from Technical Advisor Mutsuya Yamamoto
SPACE WALKER shares our vision of making a brighter future through the development of next-generation technologies. Through various joint projects, I came tos strongly feel that we should share CoMReD's high pressure composite vessel development and manufacturing technologies at a much larger cosmic scale. We decided to enter into a strong relationship as a single entity that would accelerate our growth together, enabling the use of the technology we have developed to benefit future generations.
■Message from CEO Akihide Manabe
We are grateful to be united with CoMReD, a company with which we share a common philosophy, as we navigate through a chaotic social landscape in the era of the global pandemic and climate change. This merger creates an environment that enables us to further develop our expertise, and to accelerate and grow our business sustainably on both earth and in space for the next generation. We had already been collaborating on a number of projects, and I am confident that this merger will deliver a new and improved experience of SPACE WALKER to our society. I would like to express gratitude to everyone for their continued support of our company, and together, I am looking forward to an exciting journey ahead.